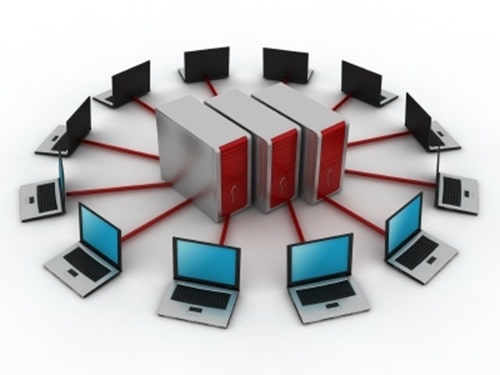 Most clients who are trying to get a webpage started, or to better manage an existing one, have heard of shared hosting services, (also known as virtual server hosting), or dedicated server hosting. Correspondingly, at some point in their company or small business' development, they question which is best for their website. To answer that question they should first be clear on what they are, the requirements they will need to cover, and their available options.
Understanding What They Are
Virtual server hosting has a variety of different websites hosted on it, each one being managed by the server's administrator. The server shares its resources with all of these sites, including bandwidth and data storage. A shared website may use reseller hosting.
Dedicated server hosting has only one website which has its own IP address. Therefore, this server allows its clients full use of its server resources.
Individual Needs and Requirements
Many businesses begin with shared server host agreements and find that they later need to upgrade to dedicated server hosting. For this reason it is a good idea to have in mind what kind of internet traffic is expected, how much control will be needed with webpage management, setup, and loading speeds.
More control to manage is a big plus to dedicated server hosting. There is nothing more annoying that having to worry about a programmer writing crazy script that slows down, or crashes the server – taking your webpage with it. With dedicated server hosting there is full client control to make sure that their site is stable and operating adequately, and to go in a make any changes that may be needed without worrying about any program restrictions or limitations imposed by virtual server hosting.
One of the best features of having a website hosted by a dedicated server is the absence of bandwidth throttling that is obligatory on shared servers due to the sheer number of website that have to be managed and regulated in order to keep the server from crashing. Dedicated servers have only one client on them. Therefore, that client is free to use all of the server's allotted bandwidth.
Many people skip a page that they find while surfing because a page takes too long to come up. An added benefit of unlimited bandwidth use is that the webpage loads faster, even when internet traffic loads are high. Since there is only one client on the server, there is no need to limit speeds (or storage space), and website response time is quick.
The fact that server setup is easier with dedicated server hosting is another reason why they are preferable. Since the server has a dedicated IP address it is simple to set it up to manage anonymous FTP and SSL (secure sockets layer) encryption. This is a process that is much simpler to do with a dedicated server than it would be with virtual server hosting.
Most virtual server hosting services are responsible for managing the websites on them, which can have a detrimental effect on individual site security. Security is not compromised with dedicated server hosting, because there is only one site and it is managed by the client.
Available Hosting Companies
Some companies offer ecommerce hosting, windows hosting, Linux hosting, vps, among other hosting options. To decide which company is best suited to these particular areas, it is best to consider the information on their webpages and research their client responses.
Some of the most popular dedicated server hosting services are, In Motion, Single Hop, Dedicated Now, and Hosting Source, and others can be found using an internet hosting service search engines.
With the above information any client is equipped to search out the right dedicated server hosting service that will be exactly what they are looking for to care for their needs.